NHJ Series Soap Amalgamator
---
Introduction
This mixer is specially designed to mix soap pellets of all types with various liquid or powder additives.
The two "Sigma" mixing blades are of heavy duty type but easy to clean. The two blades are counter rotating and of different speeds, which will help to fully mix the materials.
Two discharge doors controlled by pneumatic cylinders are installed on the bottom for material discharging.
It adopts high quality gearbox and motor. The parts which are in contact with soap material adopt high quality stainless steel.
---
Specifications
| | | | | | |
| --- | --- | --- | --- | --- | --- |
| Model | NHJ50 | NHJ100 | NHJ250 | NHJ450 | NHJ750 |
| Rotating Speed(rpm) | 23/33 | 25/36 | 25/34 | 24/33 | 22/30 |
| Capacity(kg) | 50 | 100 | 250 | 450 | 750 |
| Motor Power(kW) | 5.5/5.5 | 7.5/7.5 | 18.5/18.5 | 22/30 | 37/37 |
| Overall Dimension(mm) | 1500×800×1000 | 1968×1000×1200 | 2648×1140×1250 | 2800×1340×2955 | 4000×1650×1750 |
| Weight(kg) | 800 | 1500 | 3200 | 4500 | 8500 |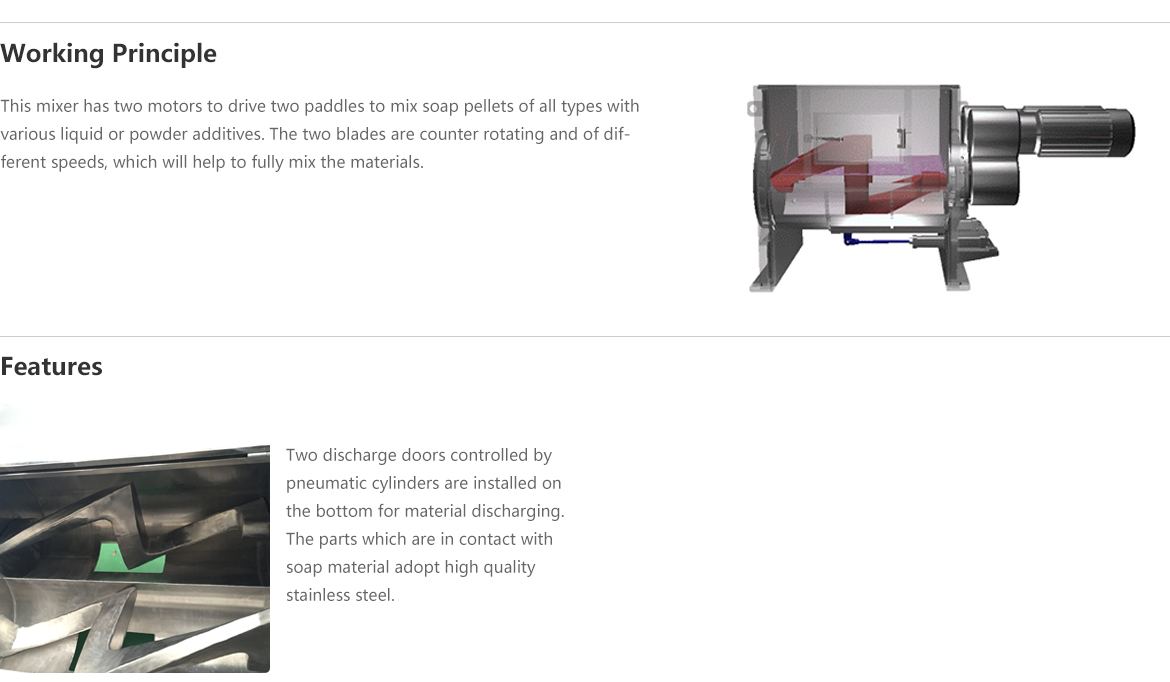 ---
| | | | | | |
| --- | --- | --- | --- | --- | --- |
| 产品型号Model | NHJ50 | NHJ100 | NHJ250 | NHJ450 | NHJ750 |
| 转速Rotating Speed(rpm) | 25/36 | 25/36 | 25/34 | 24/33 | 22/30 |
| 搅拌能力Capacity(kg) | 50 | 100 | 250 | 450 | 750 |
| 电机功率Motor Power(kW) | 5.5+5.5 | 7.5+7.5 | 18.5+18.5 | 22+30 | 37+37 |
---