XZL Series Simplex Single Screw Palletizer
---
Introduction
XZL Series Simplex Single Screw Refiner/Pelletizer is used for soap mixing and refining. It's driven by integrated motor and gear box, higher driving efficiency, and with specially designed sealing, it can avoid the oil leakage from the gearbox into the screw chamber to cause soap contamination.
It is equipped with all-hard-teeth precisely-grinded gear reducer. The screw is made of high quality stainless steel or aluminum alloy, which is strong corrosion-resistant and durable for long production. All other parts which are in contact with the soap are made of high quality stainless steel.
The production capacity can be adjusted by the VFD or the electromagnetic speed regulation motor.
---
Specifications
| | | | | | |
| --- | --- | --- | --- | --- | --- |
| Model | XZL300 | XZL500 | XZL1000 | XZL2000 | XZL3000 |
| Production Capacity(kg/h) | 300 | 500 | 1000 | 2000 | 3000 |
| Screw Diameter(mm) | 160 | 200 | 250 | 300 | 350 |
| Screw Speed(rpm) | 23 | 23 | 18 | 18 | 18 |
| Power(kW) | 7.5 | 15 | 22 | 30 | 45 |
| Overall Dimensions | 2080X1200X1230 | 3090X1340X1435 | 4000X1800X1600 | 3660X1540X1545 | 3433X1890X1613 |
| Weight(kg) | 1400 | 2000 | 4000 | 3500 | 5000 |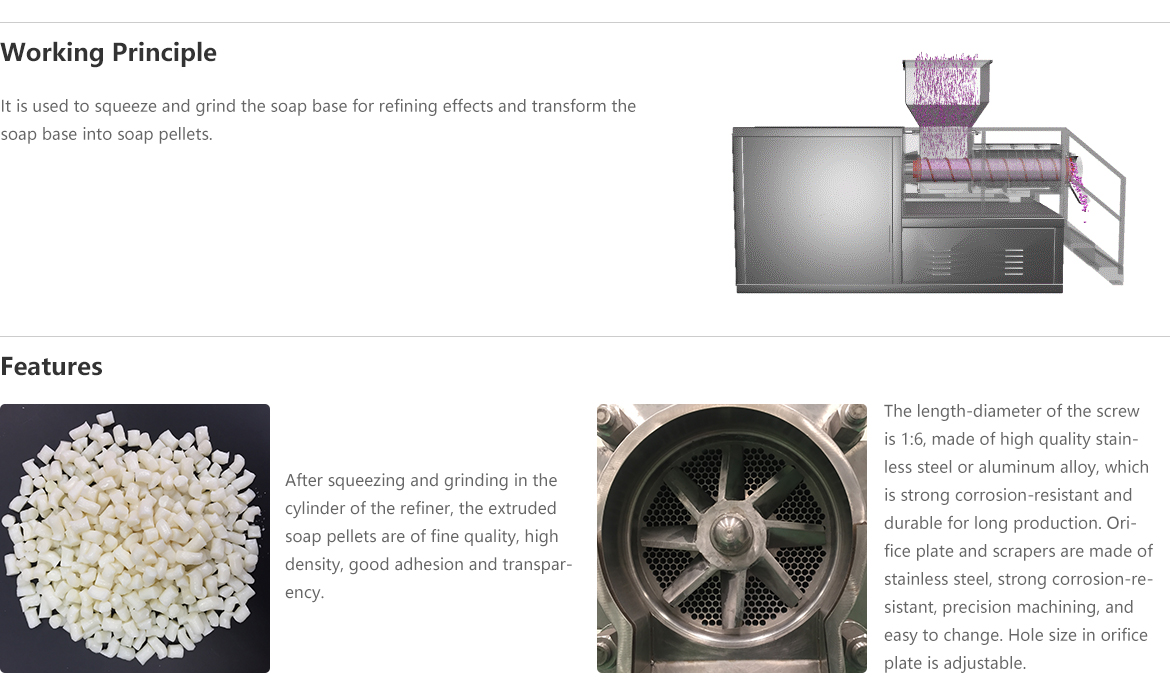 ---
| | | | | | |
| --- | --- | --- | --- | --- | --- |
| 产品型号 Model | XZL300 | XZL500 | XZL1000 | XZL2000 | XZL3000 |
| 生产能力 Production Capacity(kg/h) | 300 | 500 | 1000 | 2000 | 3000 |
| 螺杆外径 Screw Diameter(mm) | 160 | 200 | 250 | 300 | 350 |
| 螺杆转速 Screw Speed(rpm) | 18 | 18 | 18 | 18 | 18 |
| 电机功率 Power(kW) | 7.5 | 15 | 22 | 30 | 45 |
| 外形尺寸Overall Dimensions | 2080X1200X1230 | 3090X1340X1435 | 4000X1800X1600 | 3660X1540X1545 | 3433X1890X1613 |
| 重量Weight(kg) | 1400 | 2000 | 4000 | 3500 | 5000 |
---