S Series Three Roll Mill
---
Introduction
S Series Three Roll Mill is used for soap grinding and squeezing.
The main body is made of high quality steel structure, strong and stable. All gears are precisely manufactured and immerged in oil with long life time. It is of low noise, wear resistance, and high reliability.
Rolls are made of special cast alloy, which is highly anti-wearing, (if customer requires, we can choose SS420 material) and fitted with cooling system. Gaps between rolls are adjusted easily to achieve different refining effects and production capacity needs.
---
Specifications
| | | | | |
| --- | --- | --- | --- | --- |
| Model | S150 | S260P | S405P | S405AP |
| Production Capacity(kg/h) | 100-180 | 300-500 | 1000 | 2000 |
| Roll Diameter(mm) | 150 | 260 | 405 | 405 |
| Roll Length(mm) | 300 | 675 | 810 | 1000 |
| Power(kW) | 3 | 11 | 18.5 | 30 |
| Overall Dimensions(mm) | 775×820×650 | 1680×1320×1100 | 1950×1900×1450 | 2300×1900×1450 |
| Weight(kg) | 600 | 2100 | 4500 | 5000 |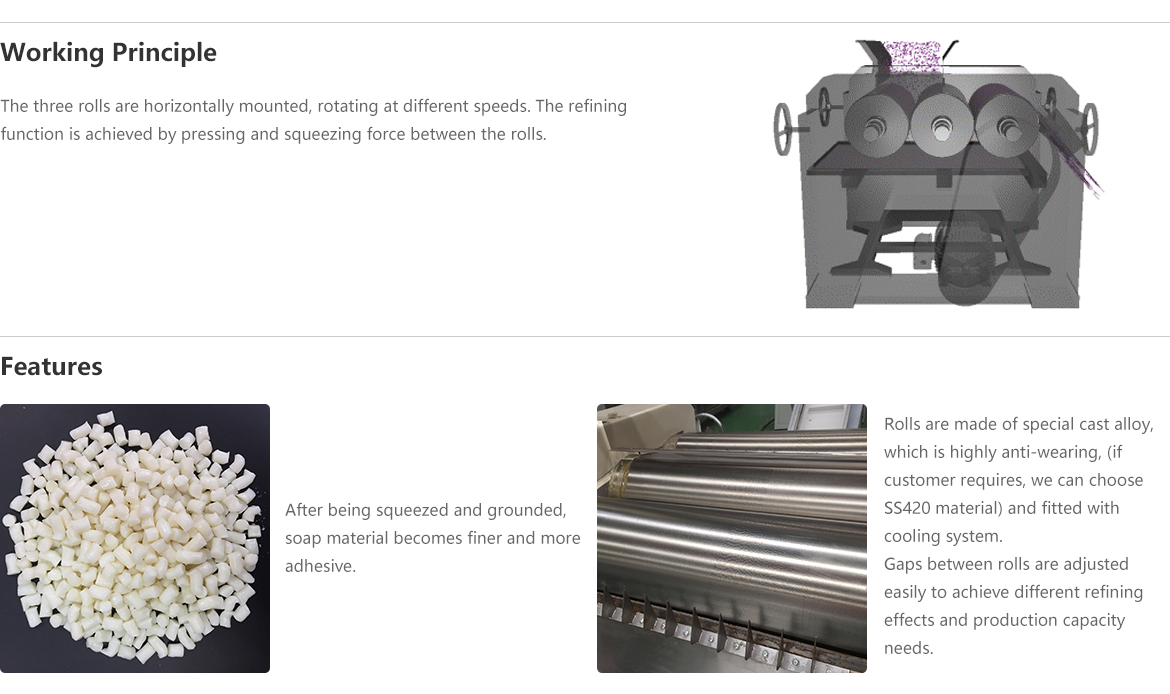 ---
| | | | | |
| --- | --- | --- | --- | --- |
| 型号 Model | S150 | S260P | S405P | S405AP |
| 生产能力 Production Capacity(kg/h) | 100 | 500 | 1000 | 2000 |
| 辊筒直径 Roll Diameter(mm) | 150 | 260 | 405 | 405 |
| 辊筒工作面长度 Roll Length(mm) | 300 | 675 | 810 | 1000 |
| 电机功率 Power(kW) | 3 | 11 | 18.5 | 30 |
---